Hospital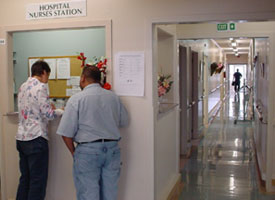 The designated hospital wing of Aranui caters for 23 clients. It is designed for those residents who need help with all aspects of daily living - eating, mobility and toileting.
A registered nurse is on-site 24 hours a day.  The registered nurse is supported by Enrolled Nurses  and a team of well trained caregivers.
High staff-resident ratios and a call-bell system in every room ensure that no resident is without help at any time.
The hospital has its own lounge / dining room.
Aranui is well equipped with specific equipment to care for indvidual needs
The activity programme for hospital residents differs from that offered to rest home or dementia clients. It is more sensory-based and designed for those who are less mobile.