Past and Present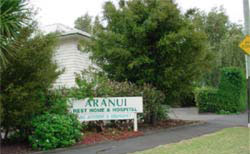 Aranui Home, Hospital & Dementia Unit is centrally located in both Woodward Road and Willcott Streets in Mt Albert, Auckland, only moments from Mt Albert Road and the local shopping centre.
Benefactress Henrietta Hughes donated her six-roomed house to the Baptist Union in 1952 as a home for elderly gentlewomen. The word 'Aranui' means a broad or comfortable path and Mrs Hughes hoped that the women living there could tread an easy path in their later years.
Since then, the home has expanded greatly. It now covers five adjoining properties all under one roof and has become a rest home plus hospital and specialist dementia facility.
Now privately-owned, Aranui Home & Hospital offers stage-2 resident care in its rest home, long-term medical care in its hospital, and specialist stage-3 resident care in its recently built dementia unit.
There is also a young person's service for people under 65 and dementia day stay for those who live elsewhere.
Aranui is well-regarded by its residents and their families for, among other things, the quality of its care, its spaciousness, its high staff-to-resident ratio, and the importance placed on residents remaining part of their local community. The latter is achieved through a comprehensive activity programme.
Aranui boasts several well-appointed residents' lounges, a whanau room, a sunny conservatory, a day care room, wheelchair ramps, a private outdoor courtyard.    Each bedroom has a wash basin, wardrobe and bed.  Residents are encouraged to personalise their room by bringing in a favourite chair or pictures.  
The rooms are a variety of shapes and sizes as is fitting with the homely feel that Aranui promotes.  Rooms are single with the exception of 3 double rooms.  Some rooms have en-suite bathrooms.